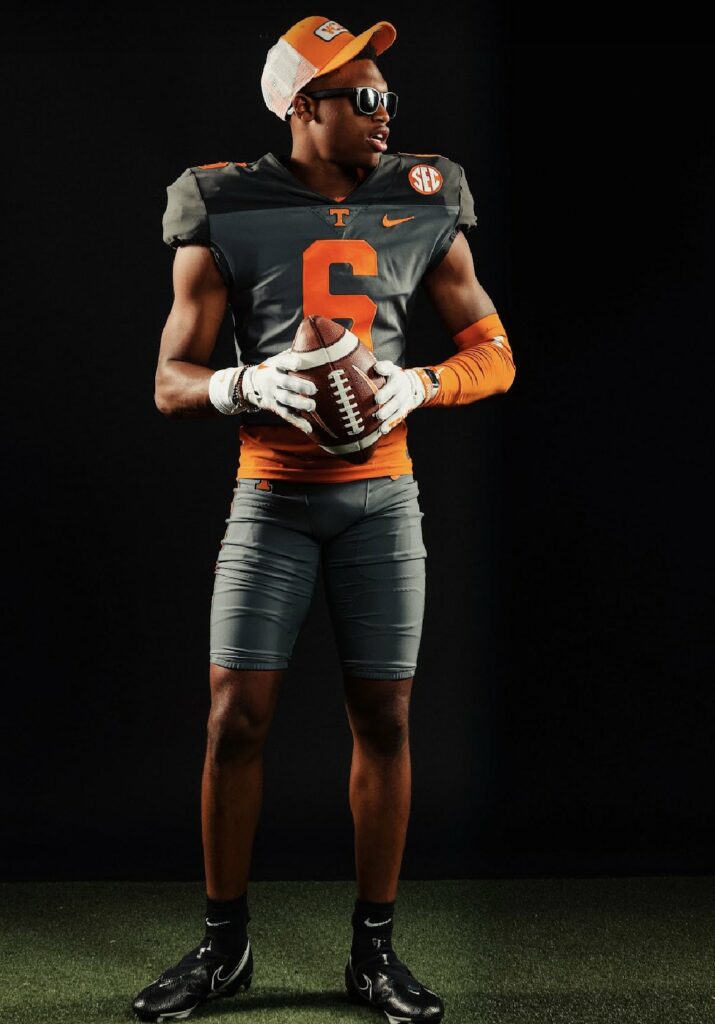 Tennessee football has landed one of its top wide receiver targets in the 2024 class. Braylon Staley, a four-star prospect, announced his commitment to Tennessee on Friday.
The receiver out of Aiken High School in Aiken, South Carolina chose Tennessee over North Carolina and Miami, the other two schools to host him for an official visit aside from Clemson.
The 6-foot and 180-pound held scholarship offers from 23 schools. The Vols, ahead of Staley's commitment, held both crystal balls from 247Sports' Brian Dohn and Steve Wiltfong. Since his official visit to Tennessee on June 16, the Vols emerged as the favorite to land Staley.
Clemson was once the favorite to land Staley, but the Tigers picked up several highly-ranked wide receivers that freed up Tennessee to swoop in for Staley.
Staley ranks as the No. 161 prospect nationally and the No. 23 wide receiver in the 2024 class by 247Sports Composite. The speedster is the South Carolina 4A champion in the 200-meter dash. He ran a 21.63-second time to clinch the championship.
Staley joins Tennessee's class which is on the edge of jumping into the top 10. The 2024 class for the Vols is currently comprised of four-star quarterback Jake Merklinger, four-star athlete Johnathan Echols, four-star cornerback Kaleb Beasley, four-star Peyton Lewis, four-star offensive lineman Max Anderson, four-star athlete Boo Carter, four-star defensive lineman Kellen Lindstrom, four-star linebacker Jordan Burns four-star athlete Marcus Goree Jr. and three-star defensive linemen Carson Gentle and Jeremais Heard along with three-star offensive linemen Gage Ginther and Jesse Perry and three-star safety Edress Farooq.
247Sports analyst Gabe Brooks said Staley has NFL Draft potential.
"Lean, athletic build with a nice-sized catch radius that combines with consistent hands-catching acumen to expand the catch window. Big-play athleticism that shows in the vertical passing game and as a contested-catch weapon.
"Excels as a high-pointing target and in back-shoulder opportunities thanks to athleticism, timing, and body control / adjustment ability. Minds the boundary and regularly gets a foot in when it's not easy to do so.
"Accelerates quickly and plays with above average top-end speed, especially when allowed a runway. Strong multi-sport profile includes multiple South Carolina 4A track and field championships (200 meters, triple jump). Can more consistently create late separation. More explosive in linear situations than lateral and shows some redirecting gear-down.
"Talented perimeter weapon who adds a big-play option to a receiver room. Also could help in the return game. Projects as a high-major wideout who could become an impact player in college. Possesses the athletic profile and makeup of a prospect who could develop into an NFL Draft candidate."