For the most part, the Tennessee Football depth chart reveal Monday had everything we expected. There were no surprises at quarterback, running back, wide receiver, defensive tackle, linebacker or on special teams. However, a few things did stand out. Here's a look at it and then the five biggest takeaways.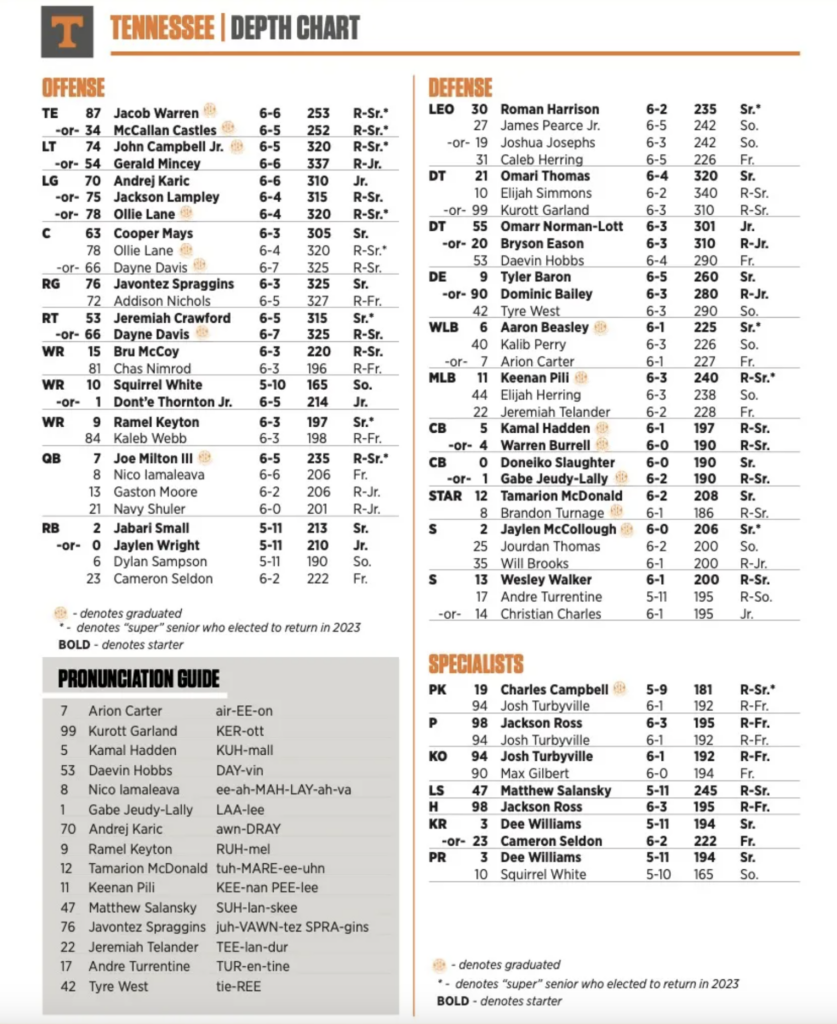 5. Does Jacob Warren have competition at TE?
We're probably reading too much into this, but consensus was Tennessee Football would either run Jacob Warren out at tight end or go four-wide at receiver. However, the depth chart showed him splitting time with McCallan Castles. Does Josh Heupel plan to use the same rotation he used last year with Princeton Fant and Warren? Is there real competition? Time will tell.
4. Dominic Bailey pushing Tyler Baron at DE
Roman Harrison is set at the Leo spot, but you would think with Byron Young gone, Tyler Baron would have locked up that defensive end spot on the opposite side. However, according to this depth chart, he is alternating time with Dominic Bailey, more of a hybrid defensive lineman. Is this about how Tim Banks plans to line up on different drives, or is this about making depth a priority?
3. One part of Tennessee Football secondary is set
Despite all the issues that plagued Tennessee Football last year on the back end, Banks and Willie Martinez seem perfectly comfortable at safety and STAR. Jaylen McCollough as a returning starter at safety makes sense. However, Wesley Walker is penciled into the other spot with no competition despite Trevon Flowers leaving. Tamarion McDonald returns at STAR.
2. Still need answers at CB
While safety and star are set for the Vols, cornerback is a completely different story. UT has Gabe Jeudy-Lally, Doneiko Slaughter, Warren Burrell and Kamal Hadden all penciled in as starters at cornerback. Is this because they have no answers or because they want to use a rotation? We'll know soon enough.
1. Offensive line for Tennessee Football is still in flux
Cooper Mays and Javontez Spraggins are locked in at center and right guard, but Mays is hurt. Tennessee Football has Ollie Lane and Dayne Davis as backups. Davis is penciled in at right tackle with Jeremiah Crawford. Left guard has Andrej Karic, Jackson Lampley and Lane listed, and left tackle has John Campbell Jr. and Gerald Mincey penciled in. Simply put, there are no answers yet.